| | |
| --- | --- |
| Build the Wood Router Jig shown on the right with just a few tools using scraps laying around your shop! | Click on image for larger view |
This router jig is so easy to make and so easy and accurate to use, you will be kicking yourself for not thinking of doing this sooner! This is the jig you need to set up fast, straight, accurate router slots with your router. If you perform a lot of router cuts to receive panels, this is the portable jig you want to have on site.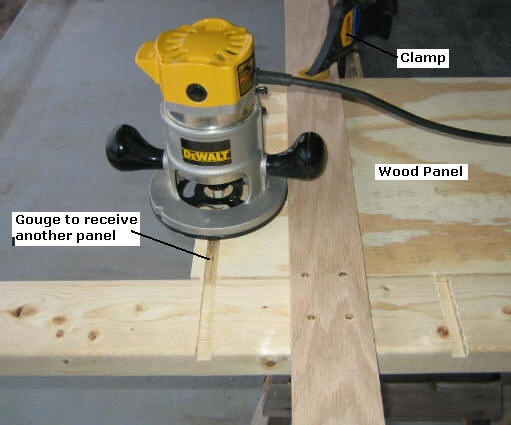 Materials:
One, 2 x 4 x 16"; Cross piece.
One, 1 x 3 x 36" used for the material guide rail.
4, 1 5/8" Wood Screws.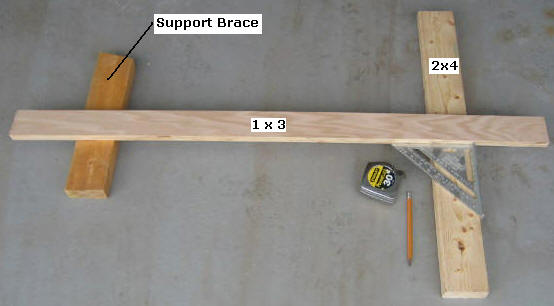 Step 1 - Select 2 x 4 x 16" and a scrap 2 x 4 for a support brace. Select 1 x 3 x 36" Guide Rail and center it on the 2x4 as shown above; using a speed square and four screws, attach the 1x3 to the 2x4 as shown above.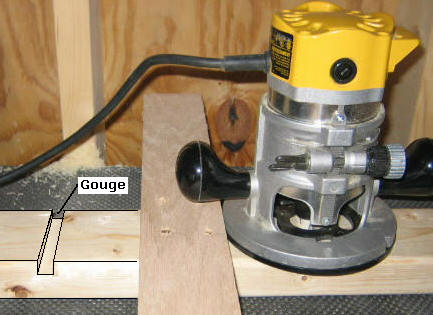 Step 2 - Select your router with a gouging bit about 1/4" deep, and place it along the Guide Rail and make a pass on each side of the rail as shown above; you are done!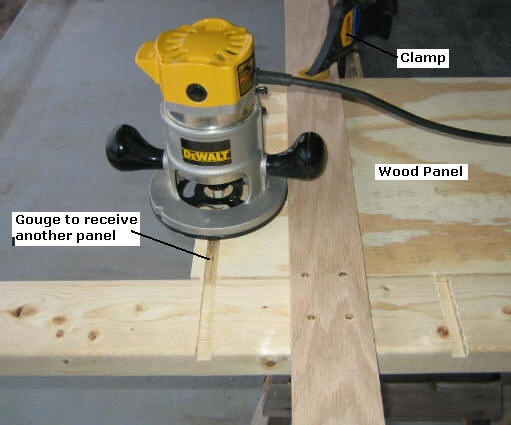 Try it Out! - Select a panel that you desire to router out a slot to receive another panel; line up your new jig where you want the slot to be cut; with the jig pressed tight along one straight edge, clamp it in place as shown above; place your router, with the desired bit and depth, along the guide rail, and make your initial, straight pass with your new Router Jig.
For Great Router Information, Click Here!
More FREE Plans!
Picnic Table Plans
Gun Rack Plans
Bookcase Plans
Bird Feeder
Dog House
Firewood Rack